ahh, nap time is a wonderful thing....
The rig thus far. It began as a single Land Raider. but as I was adding more and more for the cab, the conversion bug just kept biting me and I decided to flesh out the interior as well. the top, and possibly one side wall of the cab will be removable for skirmishing in the interior. and cause ima convert-aholic.
Most of the exterior, where it looks like gaps need to be filled is actually filled with superglue and filed down the the desired shape. When working on scratch build by the seat of my pants vehicles, I tend to over glue, and use an accelerator, 'Zip Kicker'. then shape the dried glue as needed with file and knife. this method just helps things get stuck in place fast, and lends to the overall strength of the cobbled together stuff.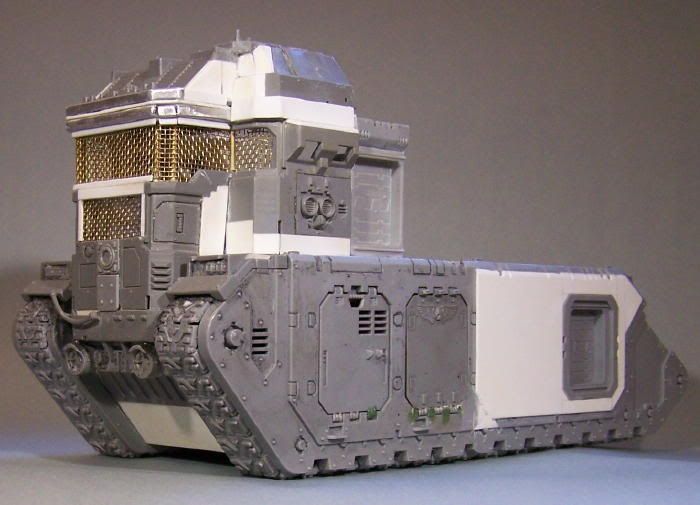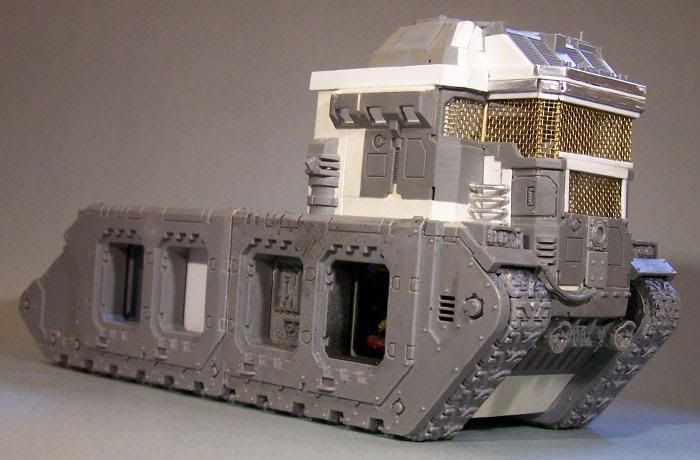 Under the 'cab' area I threw together some suitably huge, chunky ancient and possibly xenos looking machinery for the engine. then i painted it fast before continuing to build. Not a lot of the engine will ever be visible, but at least on the 'surface' it looks more impressive than a simple engine block...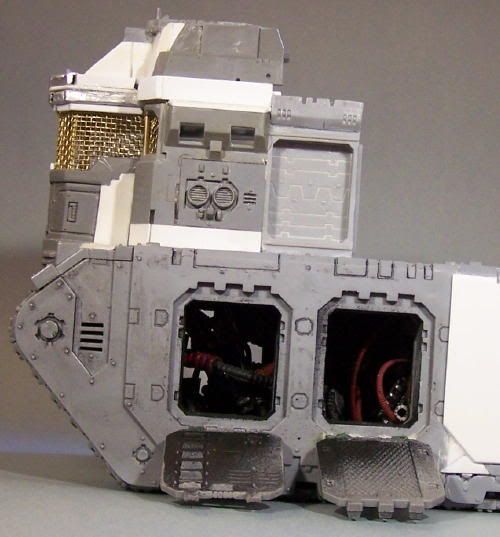 the interior is pretty bare bones thus far, except for the drivers 'cockpit'. getting al those screnes and such stuck in there was a right pain. it's not in the picture, but the door you can see on the outside left of the cab is also visible on the inside, along with a bench/fire step next to it, so the gang can fire out of the murder holes. I have several other components of the interior built. a gothic stone arch, lined with shelves full of bones and ancient decrepit weapons and trinkets which is shrine honoring fallen gang heroes of millennia past.
Further planned for the interior, is a command pulpit of sorts for the Journeyman. The crew sleeping compartment with lounging gangers some passed out drunk, some nude in their bunks and some other little fun bits. I need an idea for something fun/funny as entertainment in their compartment... There will definitely be coolers and beer cans/bottles and liquor all over the place. Yeah, i just like to model stuff up a lot, even if it's only use in game is in the entertainment of seeing it.
quick view of the roof so far. the heavy stubber will be mounted up front here, the exact location has yet to be sorted out.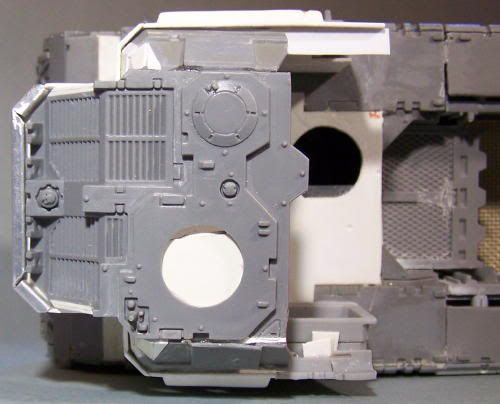 the trailer itself is a tanker, and only the base tank has yet been assembled. I'll have to take a picture of it and get everyones opinion of the scale of the thing, because it's pretty long. But then again crawlers are supposed to be pretty monstrous. I still need a rear set of tracks for the tanker. I am most likely going with the standard Chimera treads for that, though I may have to go with a Land Raider once again due to the height. Not sure if i should use the LR for consistency or not. Though mismatched parts make it look more underhive and such to me.
consectari
- i have been toying with the idea of all basic weapons looking like shotguns. I was thinking of plugging the lasgun power cell into a shotgun, so that it can be differentiated. maybe using the Space Marine scout shotguns as auto guns or adding a clip to a shotgun to make it am autogun. basically something that i can show my opponent so that they can tell which gun is which at sight. i think i am still going to just use the regular las pistol, it just feels like a signature Necro weapon to me, or something. all auto pistols will be revolvers, or the 9mm looking stub gun versions for sure.
Weagmacht
- all your ideas are great! beer and rolled up smokes were already planned. greasy rags and mullets fule the inspiration further!!