Ok well, as I'm back painting some commissions I don't really have the drive to paint anything of my own as well. So the Enforcers have gone on the back burner for a few weeks, I do intend to finish them asap though.
To keep myself entertained I'm working on another Ash Wastes gang so we can play more AWV with less Hive Prospector gangs. As you can tell by the title of the thread it's the Shanty Gang that's getting assembled this time.
These guys are all in various states of WIP, some need a few more straps or some hair. They've come out close to how I pictured them, tattered robes, cobbled together gear with a wild look to them.
Without further waffle, here's the Gang's Elder (Leader).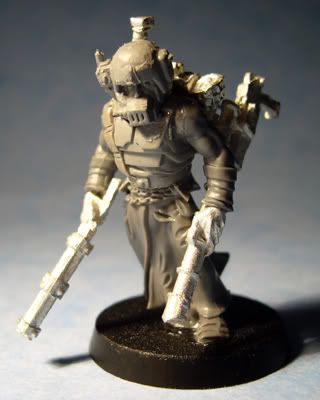 Originally this guy was not going to be the leader and he was going to be a heavy. But as the gang is allowed Long Rifles I decided that giving him one would be the best choice. He's BS4 and the only member of the gang with access to shooting skills. He's missing a strap, a shoulder strap for the rifle and some wrappings on his right foot.
I picture him as being an embittered old Imperial Guardsman who went AWOL, snuck off into the Wastes and rose to lead the Shanty town by virtue of his combat/survival skills.
Next is the guy who originally was going to be the leader. He's pretty badass.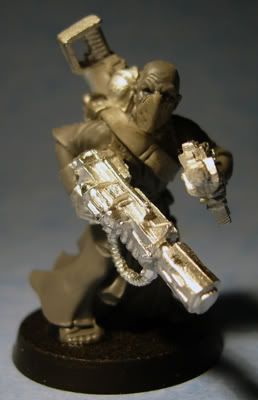 Instead he's heavily over equipped for a Ganger/Heavy. But I can get away with it because Melta Guns are very useful in the Ash Waste setting. Short range anti-vehicle weapons are superb when you're able to stand in the back of a buggy.
Here's the second special weapon armed member. The classic Plasma Gunner.
He's missing hair and a strap. I'm not going to give him a respirator because I like the facial sculpt.
One of those two boys will be sitting out because there is only room for two heavies and this guy is definately one of the two: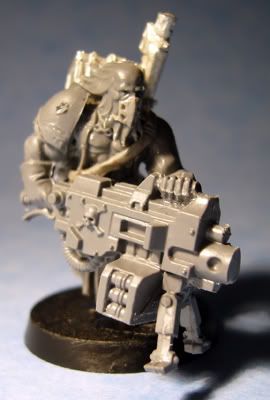 The Heavy Bolter is going to be used as a heavy stubber because the gang can't start with a heavy bolter. Or they'll just pick one up when they have the time, not sure which yet. I would have liked to use a Plastic Heavy Stubber, but it's a pain in the kiester trying to get enough of those for Necromunda gangs. I think soon I'm just going to mail order 1 of each of the old metal heavy stubbers so I have spares.
There's a shotgun ganger half finished, but I ran out of bases for the gang, so I'll pick up some more tomorrow. The big challenge with this gang is the sheer quantity of juves I'm going to need. When starting the gang has to have 1 juve per normal member. So it'll probably be 6 or 7 juves I need total. I have 2 partially assembled, but I need to convert some necro juves for other members.
More coming as and when I assemble them. I'm happy to list where any of the parts have come from. But I'm sure you'll be able to work it out.