First of all, thanks for the kind words. I've been pretty much painting Blood Bowl stuff up until these, so it's a little unusual painting futuristic with guns. I wasn't sure I could do it
Evil Hypnotist wrote:
Very nice, is that NMM on the weapons?
Yes it is. I've only recently starting doing NMM, so this was a big challenge.
feeder wrote:
Is that done with a brush or a pen?
It's all brush work, not because I'm any kind of traditionalist, but because I haven't yet found the right kind of pens in my area.
I don't have another Redemptionist to show, there are two more partially done but I was getting a little tired with the same paint colours over and over. So I took a break and painted this guy up. (If I'm honest, there are some parts on him that I'm not totally happy with.)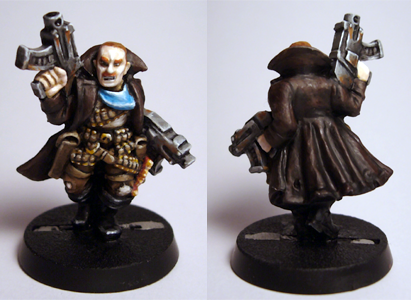 I was going to put some freehand on the duster, but then I thought "I quite like the understated look here, and why would he want to advertise his position?"
Next time I post I'll have two more Brethren to show.