Dragline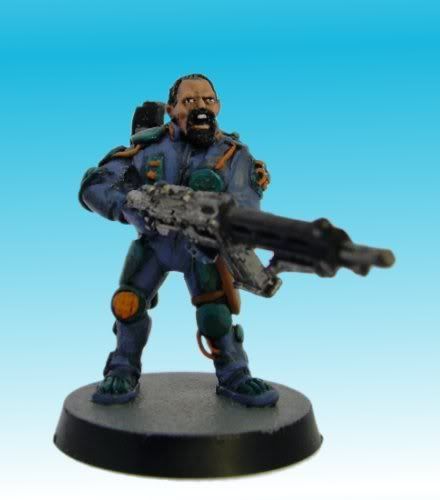 Dragline is the gang's second heavy. He started his career wielding a lasgun but after a scraping his money together and with help from a suspicious amount of income for the company, he was able to afford a heavy stubber. Although Boss Hatch appreciates the firepower, he feels that Dragline's specialist status would be better utilized if he were armed with a plasma type weapon: not only for its fear inducing effects, but as an advertisement as well. Nothing shows a company's faith in its products better than its employees' endorsement, and Dragline's insistence on using "lesser" weaponry is like a Leman Russ manufactorium worker parking a Chimera in the lot!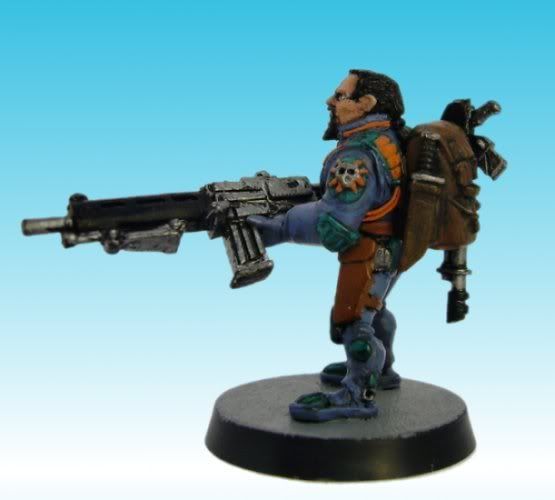 As you can see i used Edar legs, OOOOLLD plastic stormtooper trunk and arms ,and a Cadian head. All the extra pads, buckles, facial hair, pony tail, etc are green stuff. He looks a little top heavy, i tried bulking out the legs and feet with Van Saar style pads but he still does not look quite right... don't let him hear you say that though!
And yes i know he is wall-eyed!
I would have liked to add some sand but fancy bases are a waste of time for a game piece if you ask me. I like to make them as unobtrusive as possible. I even played around with the idea of basing models on clear plastic so that the could be used on any terrain without bieng distracting